Edge Hill University · Post graduate · The professional teacher
Here are the best resources to pass The professional teacher at Edge Hill University. Find The professional teacher study guides, notes, assignments, and much more. We also have lots of notes, study guides, and study notes available for Post graduate at Edge Hill University.
5 Search Results

4

Filter(s)
Currently, you only view notes uploaded by
Tutors.
To view all notes available on Stuvia, change the filters in the menu.
Best selling this year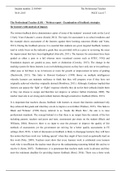 Feedback essay
This essay reviews the feedback provided by my mentor from my practical teaching lesson. After each of the eight teaching observations that my mentor observed from my teaching practice I reflect on my strengths and weaknesses and areas for improvement on this essay.
Essay
• 7 pages •
by
•
uploaded
Essay
Feedback essay
Last document update: ago
This essay reviews the feedback provided by my mentor from my practical teaching lesson. After each of the eight teaching observations that my mentor observed from my teaching practice I reflect on my strengths and weaknesses and areas for improvement on this essay.